Australian house prices have hit record highs as the nation's economic recovery continues and low interest rates underpin buyer activity.
In its latest report, CoreLogic says average house prices values throughout Australia increased by 0.9 percent during the month of January to reach $583,157 the highest level on record.
Prices have increased by 2.8 percent over the past quarter and are up 3.0 percent over the past year.
Leading the way are regional markets, where prices rose 1.6 percent during the month and are up 4.9 percent over the past three months and 7.9 percent over the past year.
Meanwhile, capital city prices rose by 0.7 percent for the month and are up by 2.2 percent for the quarter but just 1.7 percent over the past twelve months.
Within capital cities, the strongest markets are Darwin, Perth, Hobart, Canberra, Brisbane and Adelaide.
Conditions are more subdued in Sydney and Melbourne (see chart).
Meanwhile, momentum is concentrated in the detached house segment of the market, where values have risen by 1.1 precent over the month and by 3.4 percent over the quarter.
Multi-unit values, meanwhile, are up just 0.2 percent for the month and 0.8 percent over the past three months.
Indeed, the contrast in trends can be seen by comparing detached homes in regional areas against multi-units in cities.
Whereas capital city multi-unit prices have risen by only 0.3 percent during the quarter and are down 0.1 percent over the past twelve months, regional prices for detached homes have risen by 4.9 percent over the past three months and 8.2 percent over the past year.
These trends are most evident in NSW and Victoria.
Whereas multi-unit prices have fallen by 1.0 percent in Sydney and edged up by only 1.4 percent in Melbourne over the past three months, detached house prices have risen by 5.0 percent and 4.9 percent in regional NSW and regional Victoria respectively over that same period.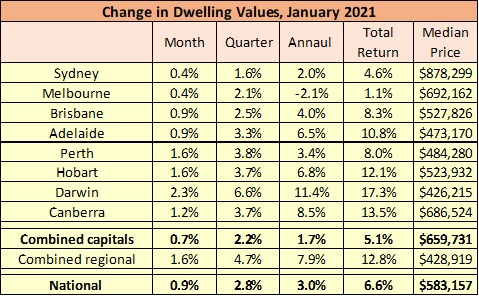 CoreLogic research director Tim Lawless says the trends reflect COVID related factors.
"Internal migration data shows more people are leaving Sydney and Melbourne for regional areas, resulting in a transition of activity from the metro regions to the outer fringe and regional markets," Lawless said.
"This demographic trend is further compounded by the demand shock of stalled overseas migration. As Melbourne and Sydney historically receive the vast majority of overseas migrants, these metro areas have been the hardest hit by this demand shock."
"Better housing affordability, an opportunity for a lifestyle upgrade and lower density housing options are other factors that might be contributing to this trend, along with the newfound popularity of remote working arrangements".
On the trend toward detached homes, Lawless said:
"Demand for units has diminished through COVID-19 amidst record low levels of investor participation and changing living preferences. At the same time supply levels are heightened in some precincts. While demand and supply remain imbalanced, we are likely to see units continue to underperform relative to detached housing markets."
In its report, CoreLogic said the market has started the year on a firm footing which will likely set the scene for further price growth throughout the year.
Despite the stalling of overseas migration, it says above average levels of buyer activity are being driven by continued low interest rates along with improving economic and labour market and easing levels of mortgage deferrals.
It said the biggest risk to this outlook would be further outbreaks of COVID-19.
Original Articles from sourceable