When visitors enter the three-storey Library at the Dock building at Melbourne's Docklands for the first time, many respond to the building's natural elements such as timber columns, wooden beams, and wooden staircase and feel a sense of calmness and ease.
Whilst designed primarily for sustainability and attractiveness, this is one of a growing number of buildings which feature elements that facilitate a healthy and positive mindset amongst its occupants.
Thanks to ongoing efforts over the past decade and rating tools such as Green Star, much progress has been made in making Australia's commercial and apartment building stock more environmentally sustainable.
Now, focus is extending toward health and well-being. Worldwide, 1,554 projects have been certified by the International Well Building Institute as meeting requirements of the WELL Building Standard, which assesses building performance against eight concepts which impact the physical and emotional well-being of occupants.
Andrew Walter, associate principal at Woods Bagot, says the push toward design which promotes a positive mindset is gathering momentum.
In a recent interview, Walter told Sourceable that Woods Bagot has several workplace projects designed to the framework outlined in the WELL Building standards. The company also recently entered into one project where the One Planet Living framework was the primary focus. Popular overseas but not yet common in Australia, this framework attempts to encompass both environmental sustainability and health and well-being.
According to Walter, sustainability and wellness are complementary, and the focus within design is shifting toward the experience of building occupants. He says there are opportunities for improvement in this space as design focus in the past has largely centred around other considerations.
"Traditionally when architects focused on delivering a building, sustainability was an add on," he said.
"This isn't the case anymore. While there is still a great deal of room for improvement (across the industry), there is now growing emphasis on considering human experience – which we consider at least as much as we do construction standards under the building code.
"The buildings which are going into design and planning are showing more evidence of this holistic approach."
According to Walter, strategies to promote healthy mindsets involve creating a stronger connection between internal and external environments and the adoption of greater 'humanity' within the building's interior.
On the first point, he says this is being achieved by bringing in fresh air through openable windows and balconies which people can step out onto, use of natural materials and bringing in natural vegetation.
On the second, he says large, anonymous, open-plan, cubicle-oriented floor space is giving way to a more personalised and integrated environment which features a variety of spaces such as breakout spaces for impromptu meetings, spaces with privacy and spaces for focused work.
Within these spaces, there is a blurring between how people work and how they live, relax and play. The idea, Walter says, is that buildings are less generic and promote a greater sense of being rounded and more integral to the lives of their occupants. This, in turn, impacts the state of mind of occupants as well as how they collaborate and work and their productivity.
Walter says there are several specific strategies that can be followed. Bringing in natural light is critical. So, too, is air quality and strategies to maximise both the volume of fresh air and the degree of control occupants have over their air circulation.
Any opportunities to bring in vegetation similar to what workers may have in their home garden can help 'domesticate' work environments and bring creativity and comfort into the workplace. Layouts and the provision of a variety of space types can help.
Material selection in areas such as floor finishes, the build-up and underlay of the floor and materials used on walls also matters. On this last point, Walter says materials which promote positive mindsets are those which people are happy to feel and touch and those which feel warm and soft. In Woods Bagot's Melbourne studio, where a large volume of timber is used, he says people who come into the space feel warm and comfortable.
For clients, Walter said it is important to understand their organisational culture. Once they are clear on this, they can work with designers to create spaces which support the mode of operation which supports that culture.
Regarding Woods Bagot's own projects, Walter pointed to the 41-storey Queensland Government building at One William Street in Brisbane, through which the government consolidated nearly 5,000 people across 21 agencies into a single building. An objective of the project was to foster greater collaboration and inter-departmental interaction. As well as a variety of spaces to provide occupants with greater flexibility, the building features a central atrium every three levels to provide space for co-workers to meet and connect. A survey conducted after one year of occupation revealed a more than 80 per cent satisfaction rating among staff.
Another example is the Younghusband development involving conversion of historic buildings into a new village in inner Melbourne. In this case, biophilic design will bring the outside in, balconies will encourage connection with the outside, and a permeable façade will bring in both air and natural light.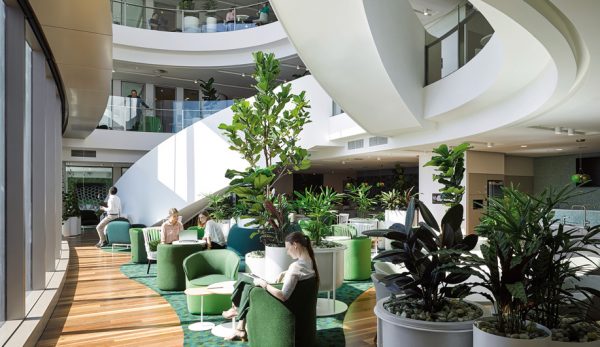 Dr Jackson Schirmer, an associate professor at the University of Canberra whose research centres around how to improve well-being whilst simultaneously delivering outcomes which are environmentally sustainable, agrees that a human-centred approach is necessary to promote a healthy mindset among building occupants.
In a presentation delivered at last year's Green Cities event hosted by the Green Building Council of Australia in March, Schirmer talked specifically about the importance of bringing nature into workspaces. Known as biophilic design, this involves strategies such as maximising natural light, incorporating views of natural elements such as plants and trees through windows, bringing vegetation indoors and incorporating natural elements such as wooden desks and floors into the workspace.
According to Schirmer, evidence about the importance of biophilic design is growing. Proof about the impact of natural light is strong, she said. So too is offering natural views out of windows; indoor plants do not have the same magnitude of effect as those outdoors. For those not near windows, reasonably solid data suggests that putting paintings or images which feature nature on walls also helps.
Until recently, there was less evidence about the effect of surfaces made of natural materials such as timber, Schirmer notes. On this score, however, she was asked last year to review data contained in a study commissioned by the Forest and Wood Products Association and compiled by market research firm Pollinate.
Based on a survey of 1,000 workers of different ages, genders, income levels and seniority, that study looked at the prevalence of biophilic elements in workplaces at the moment and the impact which biophilic elements (natural light, vegetation, wood surfaces and so on) have on worker satisfaction and sense of well-being in offices.
All up, more than one-quarter (26 per cent) of all workers surveyed indicated that they were unable to see a single biophilic element of any kind from their workstation. Of those who could see one, natural-looking exposed surfaces were the most common. Only two in five had a window view of nature, whilst less than two in five were able to see an indoor plant.
In terms of biophilic design's effect, the study looked separately at non-wood elements (natural light, view of nature and so on) and separately at wood.
With non-wood elements, it found that those who could not see these had a one in two likelihood of being dissatisfied with their work. On the flip side, four in every five of those who had many visual elements had above average levels of well-being. Those with multiple elements present also had very high levels of work satisfaction.
Regarding wood, the study found an absence of timber had a negative effect. Wood's benefits were also found to be greater when combined with other elements.
Results in this study were controlled for variables such as incomes, gender, age, level of authority, degree of control over work-space and workplace culture. Accordingly, outcomes were not skewed by factors such as offices with greater biophilic design generally being plusher spaces occupied by those in higher positions with greater levels of work satisfaction.
Nevertheless, Schirmer offered several notes of caution.
First, further research is needed to determine what types of plants and/or wood yields the best results.
Next, singular elements such as a sole plant on a window sill don't cut it. Much more powerful are multiple plants or multiple elements.
Third, many of the case-studies of biophilic design to date centre around new-builds. Designers need an expanded toolbox to embed biophilic elements into a range of retrofit scenarios as well.
Finally, conflicts with other design considerations need to be managed. Greater use of glass, for example, could maximise sunlight but might also increase energy consumption.
Around Australia, momentum toward buildings which improve our state of mind is growing.
By bringing in natural elements and making spaces more personal, our work-spaces can be made much more humane.
Original Article on this building appeared in sourceable by Andrew and can be found Here