Housing affordability is about supply and demand.
Housing affordability for most of this century there have been constraints – in particular excessive taxes and restrictive planning regimes – on new home building. These have limited supply and forced up prices.
It has taken four years of record building activity – at the behest of more accommodative planning regimes – to counter the effect of these constraints and only now (finally) are we starting to see affordability indicators improve.
Over the previous four decades, home building cycles in Australia were fairly consistent, peaking at 180,000 new homes per year and reaching troughs of 125,000 new homes per year.
In 2014, not long after the official cash rate was cut to an all-time low, the industry broke its own records and built 200,000 homes. A new record for home building was set in 2016 (233,000 homes), and since then activity has cooled only modestly to around 215,000 per annum. As 2018 comes to a close, the industry is on track to again build in excess of 200,000 homes in the year. Over the past four years, we've built five years' worth of housing stock.
The record supply of new homes being added to the overall stock of housing is a critical element behind the 4.8 per cent and two per cent decline in Sydney and Melbourne home prices from their respective peaks (these were reach in the second half of 2017).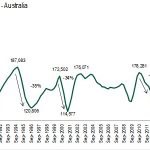 This is also the first time that rental prices have remained flat since 1994. This is not a coincidence as 1994 was also the year in which the previous record was set for the most homes built in Australia (187,083), a record that stood for 20 years due to constraints on the supply of new homes.
So while the last four years of home building has begun to address affordability pressures, it will take many more years to address the previous 20 years' worth of underbuilding and subsequent affordability pressures.
Our affordability problems are rooted in supply-side constraints – constraints on building activity, including planning and punitive rates of taxation. These constraints have resulted in an insufficient number of homes for our population.
The underlying solution to problems in housing affordability is clear. Governments need to continue to the free up planning regimes and reduce taxes on housing. This will allow the industry to build the volume and type of housing the market requires and ensure that housing affordability continues to improve.
by: Tim Reardon, HIA Principal Economist
Original article as appeared at sourecable