Occman Homes – Beach House Project in Lorne
Designed for a recently retired couple and their adult family, the beach house home was built by Occman Homes to cater for the steep site while negotiating height restrictions and a limited budget.
Despite the home's compact 184 square metre size, it features three bedrooms and substantial living space.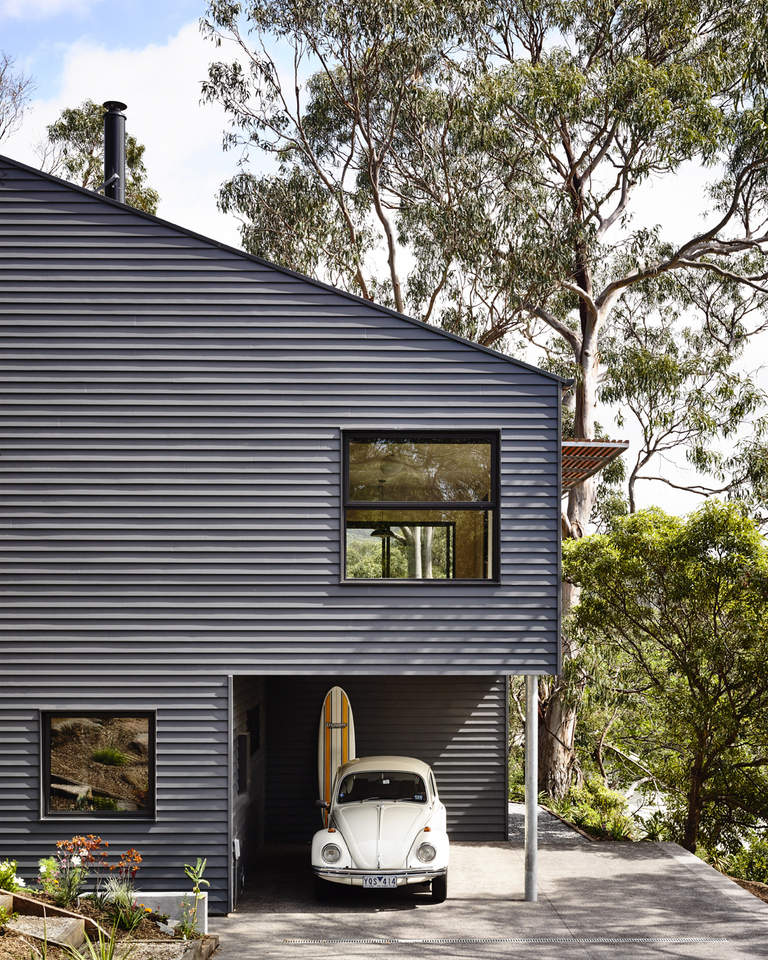 "It's an efficient floor plan that minimises wasted space, yet the house feels generous," says the firm's founding architect Will Harkness.
"I believe the average new build house in Australia is over 240 square metres."
The steep block saw Mr Harkness designing an "upside down" building arrangement with the living area on the top floor.
This plan prioritises communal spaces and affords the owners the best coastal views.
"The 'upside-down' arrangement works particularly well in this instance because the steep site means that the upper floor can be accessed directly from the rear of the block," Harkness says.
"Additionally, it allows the living spaces the best views."
The finished Lorne home shows a clear juxtaposition between young and old, with gum trees surrounding the home's cement board exterior.
"By keeping significant trees, the house responds to its context and reduces its immediate impact," Harkness says.
The living space is orientated to the north to make use of solar gain in winter, and a shaded structure over the living room windows is used to protect the room from the hot summer sun.
The double-glazed windows and solar hot water system also help to reduce the home's carbon footprint.
Mr Harkness is particularly proud of the home's attached decking area.
"A large living space and connected deck means a number of people can inhabit one area, all involved in different activities: cooking, eating, working, chatting or watching a film," he says.
"The cantilevered deck that extends out from the living space has been an enormous success. It is incredible to be floating up with the eucalypt branches – it almost feels like a tree house."
The deck's adjacent study can be used as a quiet space to escape the busy living area, or as a fourth bedroom.
"The budget was directed into the built fabric and quality of spaces – rather than overtly expensive appliances, fixtures and finishes," Harkness says.